Generally speaking, silicon carbide brick manufacturing of silicon carbide as raw material, adding clay, silicon oxide and other adhesives in 1350~1400℃ firing. This series of refractory bricks have low thermal expansion coefficient, high thermal conductivity, good thermal shock resistance and high temperature strength. Under the high temperature long-term use will not be softened, not by any acid and alkali erosion, with good performance, will not be corroded by metal and slag, is a high quality refractory.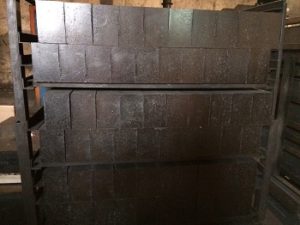 Silicon carbide brick is mainly used in making retort, cast aluminum mold, electric furnace lining and heat exchanger of nonferrous metallurgy. Generally made of silicon carbide as the main raw material of refractory products. The silicon carbide content ranges from 72% to 99%. Generally, black silicon carbide (with a SiC content of above 96%) is used as raw material, with or without a binder, and is prepared through the processes of batching, mixing, molding and firing.
Silicon carbide brick manufacturing has high thermal conductivity, good wear resistance, thermal shock resistance, corrosion resistance. So silicon carbide brick is widely used in industry. This series of refractory bricks is widely used for lining, nozzle and plug of metallurgical steel cylinder, bottom and belly of blast furnace, no water-cooled slide track of heating furnace; Non-ferrous metal smelting distiller, rectifying tower tray, side wall of electrolytic cell, melting metal crucible; Cover plate and flame insulating material for silicate industrial kilns; Oil and gas generator and organic waste combustion furnace in chemical industry; The lining of aluminum electrolytic cell for high technology ceramic kiln, melting aluminum conduit and kiln for ceramic kiln, the lower part of furnace body, furnace waist and furnace belly of large and medium-sized blast furnace, lining of aluminum refining furnace, lining of zinc distillation tank, etc.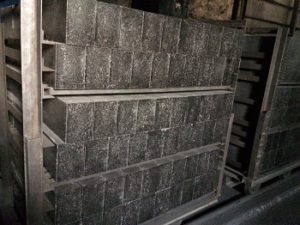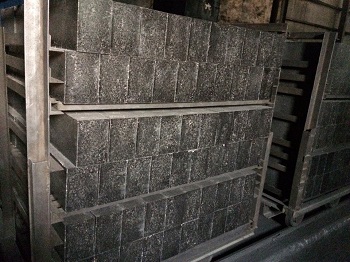 Zhengzhou Rongsheng Kiln Refractory Co.,Ltd. is silicon carbide bricks manufacturing is based on silicon carbide (sic) as the main raw material, according to the requirements with a variety of binder, after high pressure molding, corundum silicon carbide brick products have good thermal stability, high thermal conductivity, and good corrosion resistance, is an ideal energy saving material for industrial kilns.