Ceramic fiber paper is a kind of high-grade lightweight refractory material, which is made of ceramic fiber as the main raw material and is formed by wet forming process. It has the characteristics of high temperature resistance, chemical corrosion resistance, thermal shock resistance, low thermal conductivity and high elastic modulus, which is suitable for heat insulation, heat preservation, sealing, electrical insulation, sound absorption and filtration under the high temperatures, and it can be a substitute for asbestos products. Various high quality ceramic fiber paper in RS are waiting for you, Contact us for free quotation right now!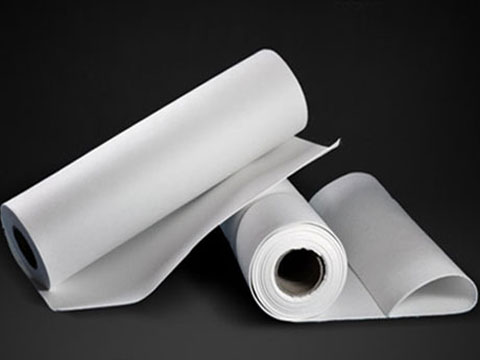 What Is Ceramic Fiber Paper ?
Ceramic fiber paper, also called aluminum silicate fiber paper, consists primarily of high purity alumino-silicate fiber and is made through a fiber washing process. On the basis of the traditional process, the slag removal and drying process is improved, which is characterized by non-asbestos, uniform fiber distribution, white color, no delamination, and less slag balls. Ceramic fiber paper can be divided into standard, high pure, high-aluminum, zirconium-containing ceramic fiber paper due to different operating temperatures.
Ceramic Fiber Paper Specification
Grade
Standard
High Pure
High Aluminium
Zirconium
Max. Temperature (℃)
1050
1150
1260
1430
Chemical Composition

(%)

AL2O3
43
47
55
38
SiO2
53
51
44
44
Fe2O3+Ti2O3
≤1.2
≤0.3
≤0.3
≤0.2
CaO + MgO
≤0.3
≤0.3
≤0.3
≤0.2
NaO + KO2
≤0.5
≤0.3
≤0.3
≤0.2
Density (kg/m3)
170~230
Size (mm)
60,000×610/1220x1mm,30,000×610/1220x2mm

20,000×610/1220x3mm,15,000×610/1220x4mm

12,000×610/1220x5mm,10000×610/1220x6mm

Other sizes and shapes on request

Standard Thicknesses
1/32″,1/16″,1/8″,1/4″

Standard Widths
24″ and 48″

Standard Packaging
Approximately 25 lb/roll (special packaging is available per requests)
Remarks: The data above is for reference. The Max. temp. depends on the working conditions.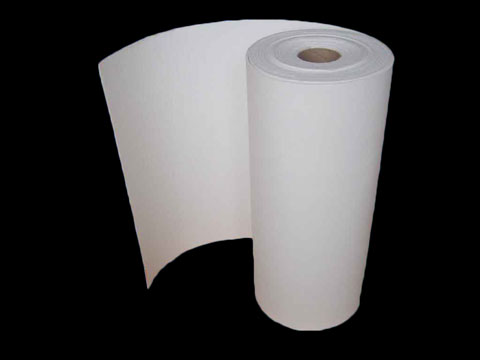 Ceramic Fiber Paper Manufacturing Process
On the basis of the traditional mechanism papermaking production process and papermaking machinery, ceramic fiber paper developed and built a wet inorganic ceramic fiber paper mechanized continuous production line. Using ceramic fiber for papermaking with extremely low content of slag ball as raw material, it is made into a ceramic fiber paper with excellent texture through beating, slag removal, pulping, long net molding, vacuum dehydration, drying, shearing and rolling. Ceramic fiber paper can be widely used in the construction and glass industries because it provides maximum heat resistance and insulation in a limited space.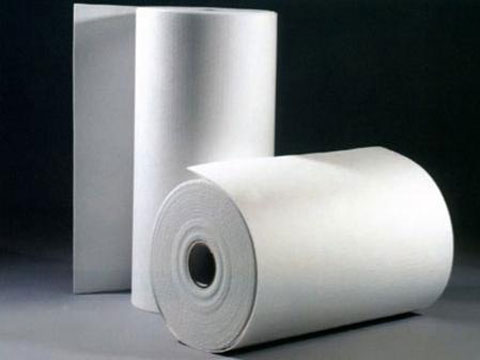 Ceramic Fiber Paper Properties
At present, ceramic fiber is the best thermal insulation refractory material with the lowest thermal conductivity and the best thermal insulation and energy saving effect except nano materials. It has many advantages such as light weight, high temperature resistance, good heat preservation effect and convenient construction and is a high quality industrial furnace lining material.
So ceramic fiber paper has the following advantages:
1.Low Thermal Conductivity. The thermal conductivity of ceramic fiber paper is very low.  Ceramic fiber paper thermal conductivity is less than 0.06 W/mk at an average temperature of 200℃ and less than 0.10 W/mk at 400℃, which is about 1/8 of that of a lightweight heat-resistant amorphous material, and is 1/10 of soft fire brick. So the thermal insulation effect of the refractory fiber material is very significant.
2.Lightweight. Ceramic fiber paper can achieve the lightness and high efficiency of the heating furnace, reduce the load of the furnace and prolong the service life of furnace.
3.Low Heat Storage.
4.Good Thermal Stability.
5.Excellent Sound Absorption.
6.Thermal Shock Resistance.
7.Excellent Corrosion Resistance.
8.Good Flexibility, Easy to Wrap, Shape, and Cut.
9.Energy Saving and Environmental Protection.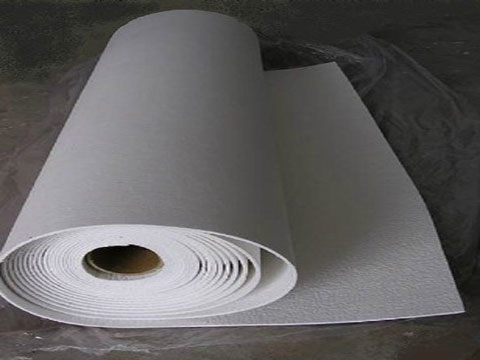 Ceramic Fiber Paper Uses
Ceramic fiber paper has won a high position in the field of industrial high-temperature insulation with its superior product characteristics, which is generally used as a material for heat insulation, heat preservation, sealing, electrical insulation, sound absorption and filtration. It can be used not only as a sealing material for thermal insulation materials and high temperature appliances, such as the inner lining of the furnace wall, but also as an insulation and cold insulation material for cryogenic refrigeration equipment, such as refrigerators.
Ceramic fiber paper is widely used in various industrial furnaces and ladle, cast barrel, submerged nozzle for high temperature insulation; and electrical insulation and insulation materials for industrial electric furnace, furnace door and furnace expansion sealing material. Besides, ceramic fiber paper can also be used as a sound insulator layer insulation material for automobile exhaust pipes because it has good sound insulation and noise reduction performance.
In a word, ceramic fiber paper is mainly applied in the following four fields:
Industrial insulation, sealing, anti-corrosion materials
Electric heating device insulation, insulation material
Insulation and insulation materials for instruments and electric heating elements
Automotive industry insulation materials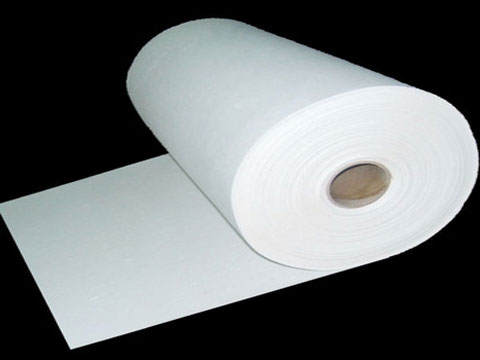 The Development History of Ceramic Fiber Paper
Ceramic fiber originated in the 1940s. And ceramic finer paper was successfully developed and used as an industrial furnace In the 1960s.
In the early 1970s, China began to produce ceramic fibers. In the 1990s, the US production line was introduced to make ceramic fiber paper, and then the domestic ceramic fiber paper production line was improved. With the optimization of the production process of ceramic fiber paper, hard paper and soft paper have gradually emerged for different applications.
Ceramic Fiber Paper Manufacturer
Various high quality ceramic fiber products for sale in RS Kiln Refractory Company except for ceramic fiber paper! You can contact us regarding any additional related products you are interested in and we will connect you with the best quality.