AZS Brick, a kind of azs refractory bricks, has excellent property of erosion resistance and can be used in glass furnace and electric furnace. If you need to buy high quality refractory bricks for your furnace project, you can send your detailed requirements to our email for advice and purchase.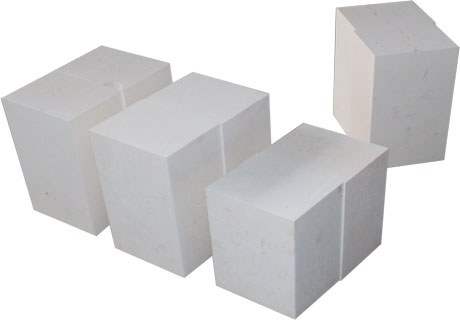 What is AZS Brick
AZS Brick is the abbreviation of electrofusion zirconium corundum brick. This kind of brick can also be called AZS electrofusion zirconia corundum brick. There are three chemical components Al2O3, ZrO2 and SiO2 in AZS brick. According to the phase diagram and content of Al2O3 – ZrO2 – SiO2 three elements, AZS takes A from Al2O3 , Z from ZrO2 and S from SiO2. AZS refractory brick is widely applied in electric arc furnace and glass melting furnace. Any need of AZS brick for your electric furnace or glass furnace? Please don't hesitate to contact us! Rongsheng Refractory will offer you AZS brick with good quality.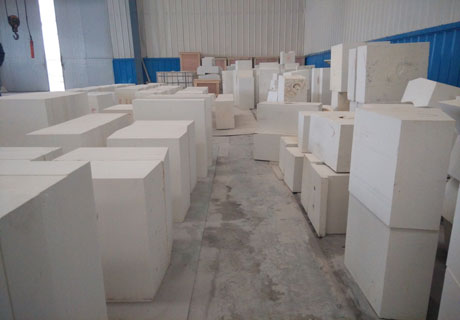 AZS Brick Uses
AZS brick is usually used in industrial furnaces such as glass melting furnaces.
The parts used in glass furnace are upper wall, small furnace flat, small furnace stack, tongue and chest wall.
Why the AZS brick are widely applied in glass furnace rather than any other refractory bricks? It is because the AZS brick has strong corrosion resistance to chemial slags, glass liquid particularly.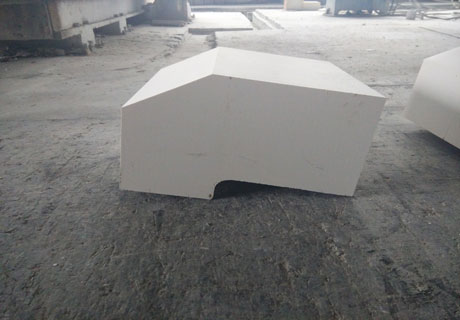 AZS Brick Properties
Compact structure.
Low porosity rate.
Good resistance to erosion.
Good electrical insulation.
High heat conductivity.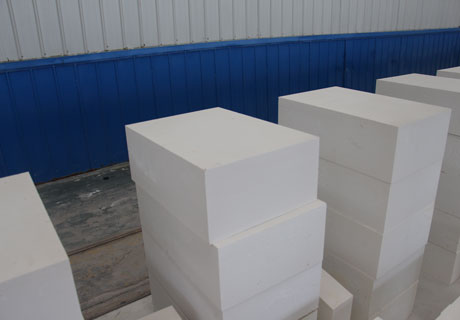 AZS Brick Composition
The fused zirconium corundum brick is a white solid formed by pure alumina powder andzirconium oxide containing 65% zirconia and 34% silicon dioxide in the electric furnace after melting in the melting furnace.The lithofacies structure consists of the eutectoid and the glass phase of the corundum and zirconium cable-stayed stone. In terms of morphology, the eutectoid of the corundum phase and zirconium clinopyroxene phase are filled with glass phases.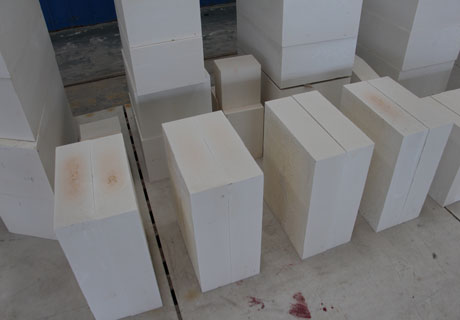 Fused Cast AZS
Fused Cast AZS brick is made by melting raw materials, cooling and casting into moulds. The casting methods of fused zirconia corundum brick are normal casting, inclined casting, no shrinkage casting and quasi non shrinkage casting. Shrinkage cavity caused by volume shrinkage during condensation is a matter that should be paid special attention to. In the production process of fused cast AZS: alumina in the batch melts and recrystallizes into corundum; zirconia melt and recrystallized into zircons after decomposition; mullite and silica are used to make glass phase with sodium boron as denaturant.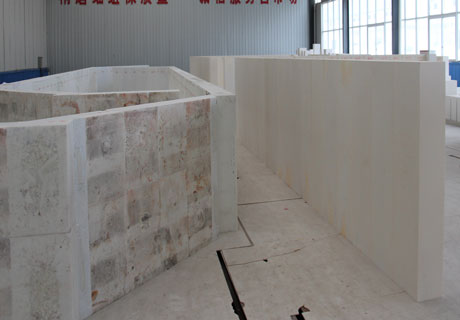 AZS Brick Manufacturing Process
The production process of fused zirconium corundum brick is divided into reduction method and oxidation method. The reduction method is characterized by low voltage and high electric current. The electric arc furnace is mostly used in producing fused zirconium corundum bricks. The oxidation process is characterized by high voltage, no contact between the electrode and the liquid surface with a long arc melting process.
When producing fused zirconia corundum bricks, molten liquids are poured into prefabricated sand mold or other models. The quality of the model has a lot to do with the quality of the product. In order to ensure the quality of products, sand mold has good air permeability, thermal shock resistance, mechanical properties, accurate size and smooth surface.
Sand mold is usually made of silica sand and binder sodium silicate. Silica content requires more than 98%. If the silica content is low and the impurities are large, the heat resistance of the sand mold will be affected. The specific weight of the water glass is 1.34g/cm³, and is mixed with silica sand in a certain proportion. After mixing with the supporting box, the sand mold is made and dried in the drying kiln.
Various Cheap AZS Brick For Sale In RS Factory! Check Price!
AZS Brick For Glass Furnace
The raw materials of AZS brick for glass furnace are alumina, zircon, zirconium sand, soda and borax. AZS brick for glass furnace has strong corrosion resistance to acidic slags and alkaline slags, especially glass liquid. Fused zirconia corundum bricks are divided into AZS 33#, 36# and 41#, with different zirconium content, different materials and different uses. AZS brick for glass furnace with high quality are required for 90% of the parts of glass furnace. AZS reractory bricks are widely applied in glass furnace for the good resistant ability to glass liquid. Any need of AZS brick for glass  furnace? Want to buy advanced AZS refractory bricks? Are you interested in cheap AZS brick for glass furnace? Email RS Kiln Company!
Various Cheap AZS Brick For Sale In RS Factory! Check Price!
AZS Brick Specification (AZS-Y33)
| | |
| --- | --- |
| Item | Index |
| Al2O3/ % | ≥50 |
| ZrO2/ % | ≥32.5 |
| SiO2/ % | ≤15.5 |
| Na2O+K2O/ % | ≤1.3 |
| Apparent porosity / % | ≤1.2 |
| Bulk density / g/cm³ | ≥3.75 |
| Cold crushing strength/ mpa | ≥300 |
| Glass phase exudation temperature/℃ | ≥1400 |
| Refractoriness /℃ | ≥1790 |
| 0.2mpa RUL/℃ | ≥1950 |
AZS Refractory Meaning
AZS refractory refers a kind of zirconium corundum brick and is mostly applied in glass melting furnace. AZS refractory brick is commonly known as white iron brick, also known as corundum – oblique zircon brick.The main chemical composition is Al2O3 50-70%, ZrO2 20-40%, and the rest is SiO2.The main mineral constituents are zircon, corundum and glass phases. The zircon crystal forms the backbone of AZS refractory brick. ZrO2 has high melting point and stable chemical properties, and has strong corrosion resistance to acidic alkaline medium, especially glass liquid.
Various Cheap AZS Brick For Sale In RS Factory! Check Price!
AZS Brick Manufacturer
RS Kiln Refractory Company is a professional AZS brick manufacturer and supplier that produce high quality AZS refractory bricks. AZS refractory brick that produced in RS has the good characteristics of strong resistance ability to acidic and alkaline slags, especially to glass liquid. If you are going to buy AZS brick for glass furnace, just contact RS AZS Brick Manufacturer! RS promise to offer you cheap and qualified AZS refractpry brick. Don't be hesistated! Contact RS now for low price AZS refractory brick.