Alumina Bubble Brick is a kind of heat preservation and energy saving refractory material with high heat resistant ability which is widely used in metallurgical engineering. Alumina bubble brick is made of bubble alumina and alumina powder and formed through the burning at 1750℃. The refractoriness of alumina bubble brick is above 1750℃ and the thermal stability is good. The alumina bubble brick has good energy saving effect. If you want to buy cheap and qualified alumina bubble brick for your furnace or kiln, please contact Rongsheng Kiln Refractory Company!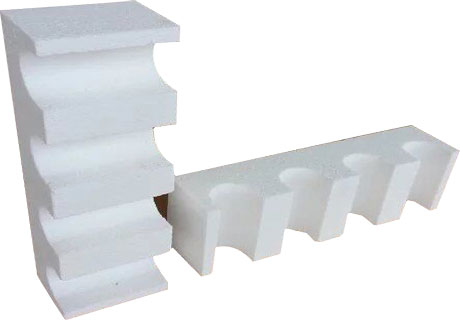 What Is Alumina Bubble Brick
Alumina bubble brick is a light refractory brick with the good performance of high temperature resistance and heat storage. Alumina bubble brick is sintered from alumina hollow ball and is a heat energy saving refractory material. The refractoriness of alumina bubble brick is high and the bulk density of alumina bubble brick is smaller than the common brick which reduce the weight of refractory building materials for furnace. The poor thermal conductivity make alumina bubble brick save the same heat with less refractory materials.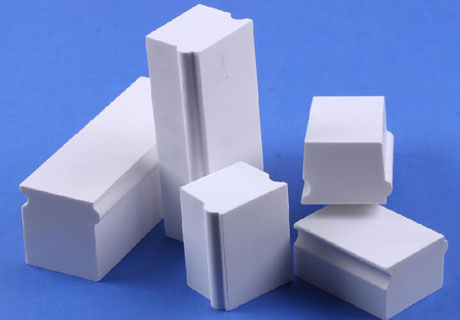 Advantages of Alumina Bubble Brick
Usage temperature is above 1750℃.
Good thermal stability.
Low reheating linear change.
Bulk density 1.1~1.5g/cm³(compared with the common brick 2.6~3.0g/cm³)
Material cost reduction.
Low thermal conductivity.
Heat preservation.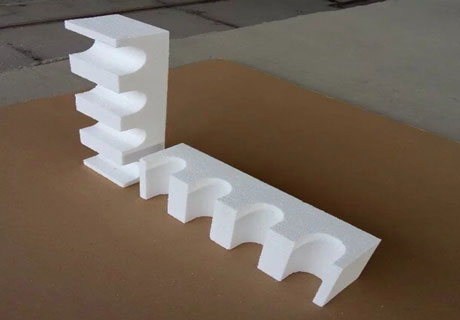 Uses of Alumina Bubble Brick
Alumina bubble brick can be used in high temperature down-shaft kiln, shuttle kiln, molybdenum wire furnace, tungsten bar furnace, induction furnace, nitriding furnace, etc for at least 30% energy saving. The application of alumina bubble brick can greatly reduce furnace weight, improve furnace structure, save refractories materials and save energy.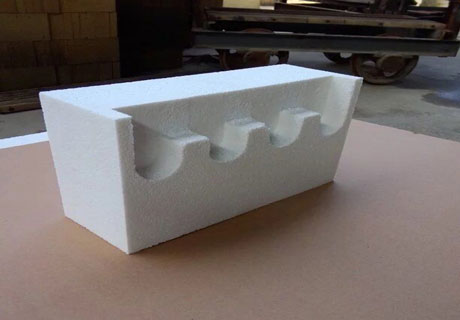 Raw Materials of Alumina Bubble Brick
Alumina Bubble
Alumina bubble is a new type of high temperature insulation material which is blown from industrial in electric furnace. The crystal type is a-Al2O3 microcrystal. Alumina bubble ball whose highest use temperature is 1800 degrees C, can be made into products of various shapes with high mechanical strength (a number of times that of general light products). And the volume density of alumina bubble is only 1/2 of the corundum products, reducing the weight of furnace and saving materials and energy.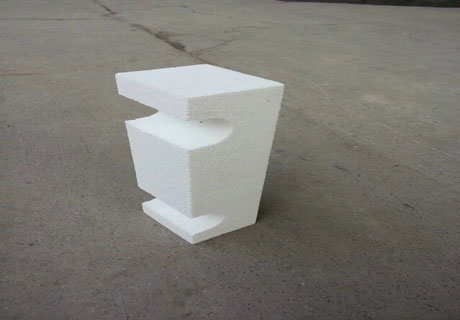 Alumina bubble can be used for high temperature, ultra high temperature insulation fillers, high temperature refractory concrete lightweight aggregate, high temperature castables, etc. The alumina bubble has also been widely used in high temperature and ultra high temperature furnaces, such as petrochemical industrial gasifier, carbon black industrial reactor, metallurgical industry induction furnace and so on, and a very satisfactory energy-saving effects has been achieved.
α-alumina Powder
α-alumina powder with high quality industrial alumina as raw material, uses the new type of high temperature down-draft kiln and scientific calcining process( manual selection, clear classification, less impurities, high conversion rate, stable shrinkage and good consistency).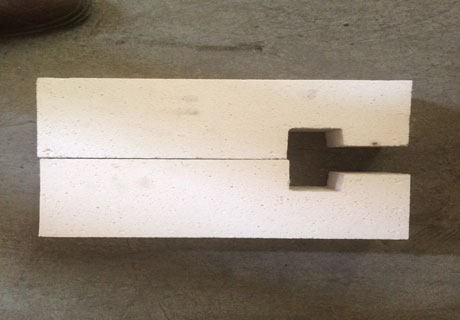 Processing Technology of Alumina Bubble Brick
Batching.
Molding.
Drying.
Burning.
Finished products.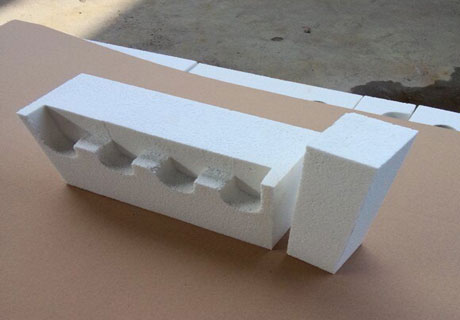 Index of Alumina Bubble Brick
Alumina bubble brick  LKZ-88
Max use temperature/℃
1650℃
Al2O3/%
≥88
Fe2O3/%
≤0.3
Bulk density/%
1.30~1.45
Cold crushing strength/MPa
≥10
RUL 0.2MPa
1650
Reheating linear change rate/%1600℃, 3h
±0.3
Thermal expansion coefficient*10-6

(room temperature-1300℃)

~0.8
Thermal conductivity/ W/m.k  800℃
0.9
Application
Used as insulation liner for petrochemical industry carbon black furnace, ceramic and refractory lining.
Supplier of Alumina Bubble Brick
Rongsheng Kiln Refractory Company is a professional supplier of alumina bubble brick with high quality and best service. Equipped with advanced production line and production technology, Rongsheng Refractory Company has the ability to produce a large amount of alumina bubble brick annually and sells remotely to India, Pakistan, Kazakhstan, Korea, Japan, Vietnam, etc. If you are in need of the light alumina bubble brick for petrochemical industrial gasifier or high temperature furnace lining, please email RS Refractory Company! Quote us for the cheap alumina bubble brick! RS Kiln Company will help you reduce the budget!