Mullite Refractory Castable Introduction
The mullite refractory castable is made of excellent porous mullite aggregate,refractory castable is stirred with fine powder and additives. The material ratio can be adjusted according to the actual use of the boiler to carry out customized production. The mullite aggregate has a critical particle size of 12 mm and a long term use temperature of 1350 ℃. The mullite refractory castable has high use temperature and can be directly contacted with flame for working lining to achieve high temperature and energy saving, the unit weight is light, the structure weight is reduced by 40-60%, the hidden trouble of the brick hanging brick is eliminated, the porous mullite bone Ingredients, low thermal conductivity, good thermal insulation performance, fast oven drying, shortening furnace life, significant economic benefits.
Mullite refractory castable as a kind of hot sales refractory castable for furnace application in Rongsheng factory manufacturing with mainly used as lining for various kiln such as boiler, blast furnace hot blast stove, heating furnace, ceramic kiln. Mullite based refractory castable have good properties of high service temperature & thermal insulation and direct contact with flame . Mullite refractory material has the advantages of high temperature structural strength, low temperature creep rate, low thermal expansion, strong chemical resistance and thermal shock resistance. There are for sale cheap mullite refractory castable in RS fire bricks company can provide castable refractory mullite specification and category as well as competitive price & high grade quality refractory mullite castable, other specification according to customer requirements, welcome to contact us or email us for free quote or price list.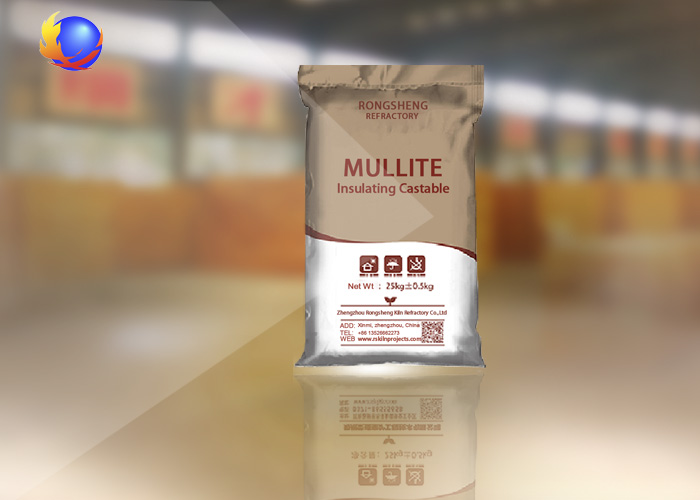 Mullite Refractory Castable Features
Mullite castable low thermal expansion.
Refractory mullite castable thermal shock resistance.
The refractory mullite castable strong chemical resistance.
Mullite refractory castable low temperature creep rate.
This series of castable has the advantages of high temperature structural strength.
It of maintenance, demoulding, baking time is short, not bursting.
Mullite Refractory Castable Specification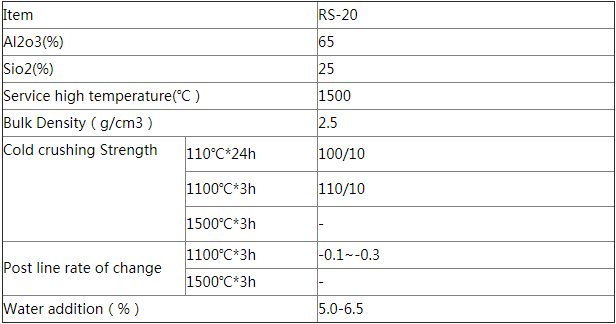 Mullite Refractory Castable Application
Castable refractory mullite application in the high temperature parts such as kiln mouth and cooling machine before and after cement kiln.
Mullite refractory material is mainly used as the lining of various kiln such as boiler, blast furnace hot blast stove, heating furnace and ceramic kiln.
Mullite refractory castable is suitable for petrochemical industry tubular heating furnace, light diesel oil, ethane cracking furnace lining, atmospheric and vacuum furnace, sulfur recovery unit, steam boiler, tortoise shell insulation layer, two cylinders and pipe insulation Layer, other industrial furnace doors, fire holes, observation hole door lining.
Mullite Refractory Castable Advantage
Castable refractory mullite is a kind of refractory material which does not need to be formed, has good fluidity after being mixed with water and stirred.
Castable refractory mullite structure is made up of aggregates, powders and glues according to the process ratio. Castable refractory mullite can replace the products with complex shapes, high degree of profile and wide area.
Castable refractory mullite is easy to use, shorten the construction period and reduce labor and strength and other advantages.
The mullite refractory castable has good flow properties, peeling resistance and thermal insulation properties, mullite refractory bricks is suitable for application in high temperature parts of the heating furnace. Mullite refractory castable has obvious effect on improving the service life of the furnace body, reducing the thermal conductivity of the heating furnace body and improving the thermal efficiency.
Rongsheng Refractory is constantly committed to quality management, process management and cost management, strives for internal strength, adheres to the development of science and technology, wins by quality and reputation, provides technical guidance services to provide customers with quality products and services.
From raw material procurement to final product inspection and after-sales service. Ensure that the product offered to the user is 100% qualified.
RongSheng refractory bricks factory have the professional sales team,if you have any smaller problem, RongSheng refractory castable manufacturer can solve them at any time. We treat every client as a friend ,friend is precious.