There are several important parameters to measure the quality of AZS brick.
The initial temperature of glass phase.
The glass phase exudation (1500 C, 4h)
Static anti glass liquid erosion speed (mm/24h) ordinary sodium calcium glass, 1500 C, mm/36h
These physical parameters are closely related to the chemical composition, and also have much to do with the melting process. The initial temperature of glass phase of AZS brick produced by oxidation method are much higher than that of the AZS brick produced by reduction method. Taking AZS-33 as an example, the "initial temperature of glass phase" produced by oxidation is above 1400 degrees Celsius. The initial temperature of glass phase produced by reduction method is no less than 1080 degrees Celsius.
From the above we can see that the amount of glass phase and the initial temperature of glass phase are very important for the quality of AZS brick.
Glass phase, also known as matrix glass, all components that do not form a solid solution or a mixed crystal from the matrix component of the melt are eventually reacted with silica. In the case of the crystalline phase of the melt, the glass filled between the grains is called the glass phase. The softening point of this kind of glass phase is low. When heat reaches high temperature, phase fluid will appear, overflowing in the micro-hole left by the brick surface, penetrating into the glass liquid in the kiln, aggravating brick erosion, so the quality of AZS brick is unfavorable.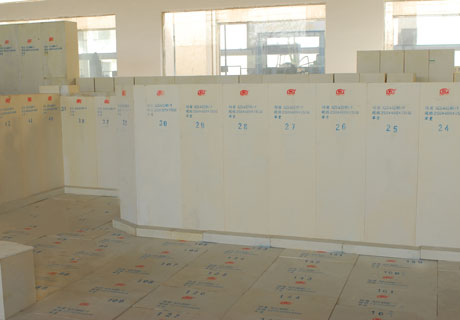 The glass phase can buffer the stress caused by the change of volume and can keep the product airtight. But the more it is, the lower the temperature, the worse the quality of the bricks. The precipitation of glass phase will destroy the structure of brick and affect the life of brick. At the same time, bubbles will be released and it is possible to produce stone that is insoluble in glass, seriously affecting the quality of glass. If you want to buy high quality of AZS brick, please Email RS Kiln Refractory Company! Contact RS now!