Mullite refractory brick is mainly made of mullite as high alumina refractory. Generally, the content of alumina is between 65% and 75%. In addition to mullite, the lower alumina contained a small amount of glass phase and calcite. Higher alumina also contains a small amount of corundum. Mullite bricks manufacturing has a high refractory degree, which can reach more than 1790 ℃, the starting temperature of softening under load is 1600 ~ 1700 ℃, the compressive strength of normal temperature is 70 ~ 260MPa, and the thermal shock resistance is good.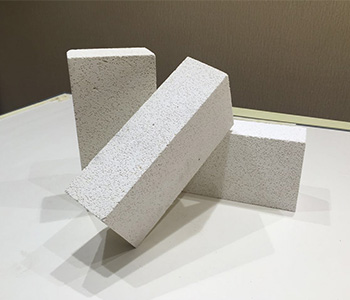 This series of high temperature mullite bricks are made from high purity raw materials, with white color, high temperature, low thermal conductivity and low rate of change of refiring line. The application of the refractory material can reduce the volume of the masonry of thermal equipment, reduce its weight, shorten the heating time, ensure the furnace temperature uniformity, reduce the heat loss, save energy, improve the operating conditions and improve the production efficiency. Mullite bricks manufacturing is mainly used for top of hot blast furnace, body and bottom of blast furnace, regenerator of glass melting furnace, ceramic sinter kiln, dead corner lining of petroleum cracking system, etc.
Mullite brick manufacturing has sintered mullite brick and electric melting mullite brick two kinds. Sintered mullite brick with high bauxite clinker as the main raw material, adding a small amount of clay or raw bauxite as a binder, through molding, fired and made. Electric melting mullite brick with high alumina, industrial alumina and refractory clay as raw materials, adding charcoal or coke fine particles as reducing agent, after the formation of the reduction method to produce. The crystallization of electric melt mullite is larger than that of sintered mullite, and the thermal shock resistance is better than that of sintered products. The high temperature performance of the firebrick mainly depends on the content of alumina and the uniformity of mullite phase and glass distribution.
This series of refractory brick include light mullite brick, light mullite brick is mainly made of imported plate-shaped corundum and high-purity fused corundum with the application of advanced ultrafine powder adding technology, after mixing, drying and molding, it is fired in a shuttle kiln at high temperature. Mullite light brick is widely used in residue gasifier, second stage reformer of synthetic ammonia, carbon black reactor and refractory furnace. The size of the products, physical and chemical indicators, service life are up to customer requirements. This series of light refractory brick has the advantages of high strength, small volume density, low thermal conductivity, good thermal insulation performance and convenient construction, etc. It is an ideal choice of thermal insulation materials for industrial boilers.
Mullite brick has high temperature resistance, high strength, low thermal conductivity, direct contact with flame, suitable for lining of various industrial furnaces. Also has the low thermal conductivity, has the very good heat insulation effect; High fire resistance; The high aluminum content makes it keep good performance in reducing atmosphere. High compression strength in hot state. It is widely used in ceramic kiln, roller kiln, glass kiln superstructure material road brick, modification board, processing furnace superstructure, sintering furnace, melting furnace, refining device, heating device, and other thermal equipment thermal insulation layer.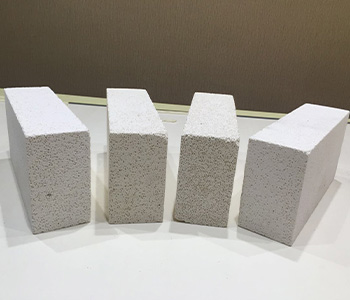 Zhengzhou Rongsheng Kiln Refractory Co.,Ltd. is high quality refractory bricks manufacturer. The refractory product quality is superior, the price is reasonable, welcome to consult purchase. We are committed to the production of high quality refractory products, products exported to more than 60 countries and regions in the world, is a collection of r & d, production, sales and integration of refractory manufacturers.